Founders / Inflatable Monument / Chicago Illinois USA / 2018- /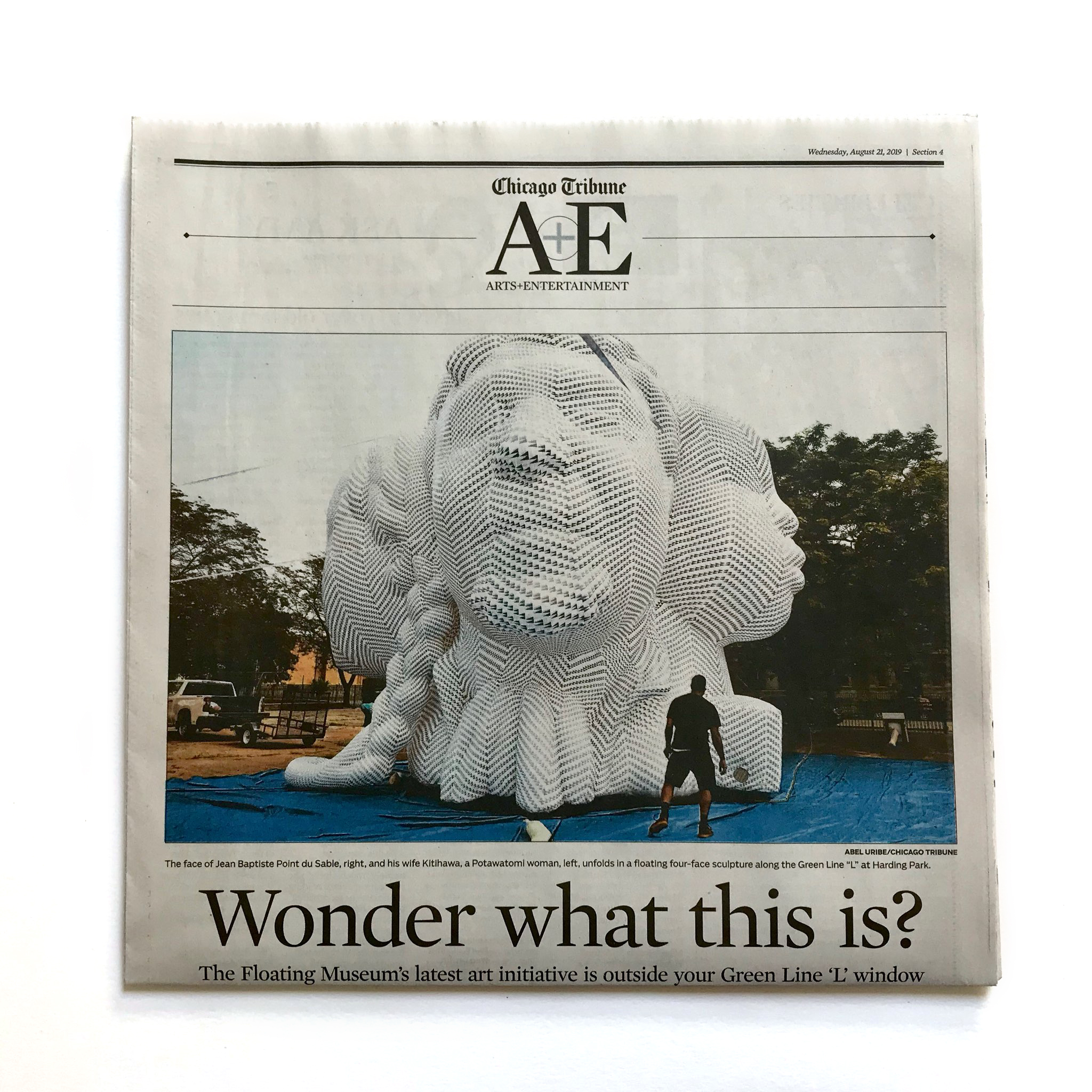 Description /
Founders, 2019, polyester blend fabric, dye sublimation, air blowers, hardware, 25'x35'x34'
Founders is a mobile monument and collaboration between Floating Museum, Chris Pappan (Kanza/Osage, Lakota) and Monica Rickert-Bolter (Potawatomi/African-American/German). The inflatable sculpture features four busts facing the four cardinal directions. The form is a mix of interpretations of items from the collections of the DuSable Museum of African American History, the Field Museum of Natural History, as well as interpretations of various historical figures. The busts reference Jean Baptiste Pointe du Sable (Chicago's first non-indigenous settler), Kitihawa (du Sable's Potawatomi wife), Harold Washington (first African American Mayor of Chicago), and a bust of a young boy by artist William Artis. The pattern on the inflatable monument was inspired by Potawatomi textiles in the Field Museum collections.
Founders pops up in community sites throughout Chicago as part of Floating Museum's summer programming. The sculpture is part of a series by Floating Museum highlighting historical figures that elevate the stories of indigenous people and people of color, honoring the often-overlooked roles they've had in shaping our contemporary world.
Floating Museum would like to give a special thanks to our exhibition committee who advised on the sculpture: Alaka Wali, Debra Yepa-Pappan, Kate Swisher, and Etzer Cantave.
More to read:
"Wonder what this is?"
by Darcel Rockett for the Chicago Tribune
"'The Founders' Art Project Connects Communities Along the CTA Green Line"
by Angel Idowu for WTTW