River Assembly / Chicago Illinois USA / 2017 /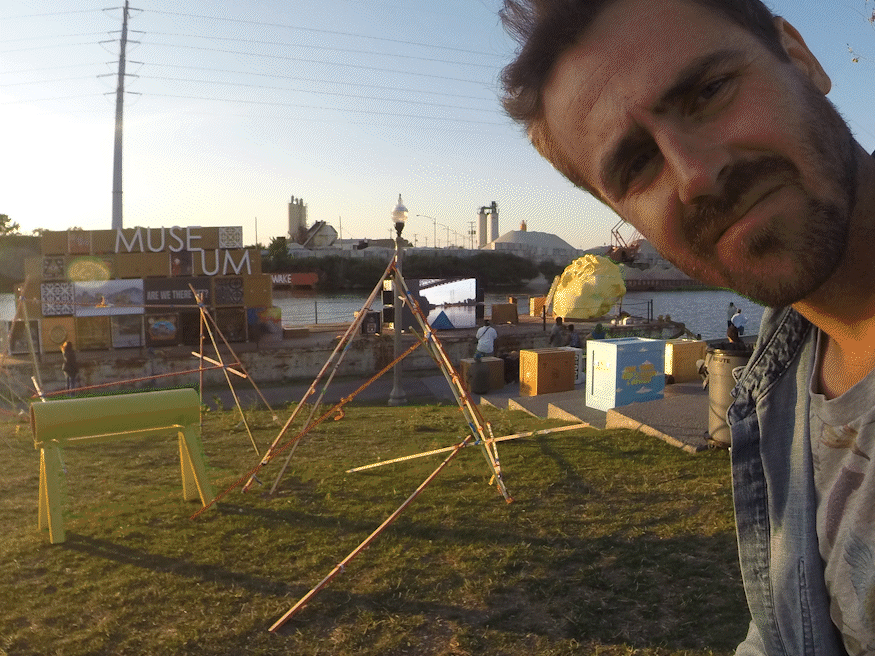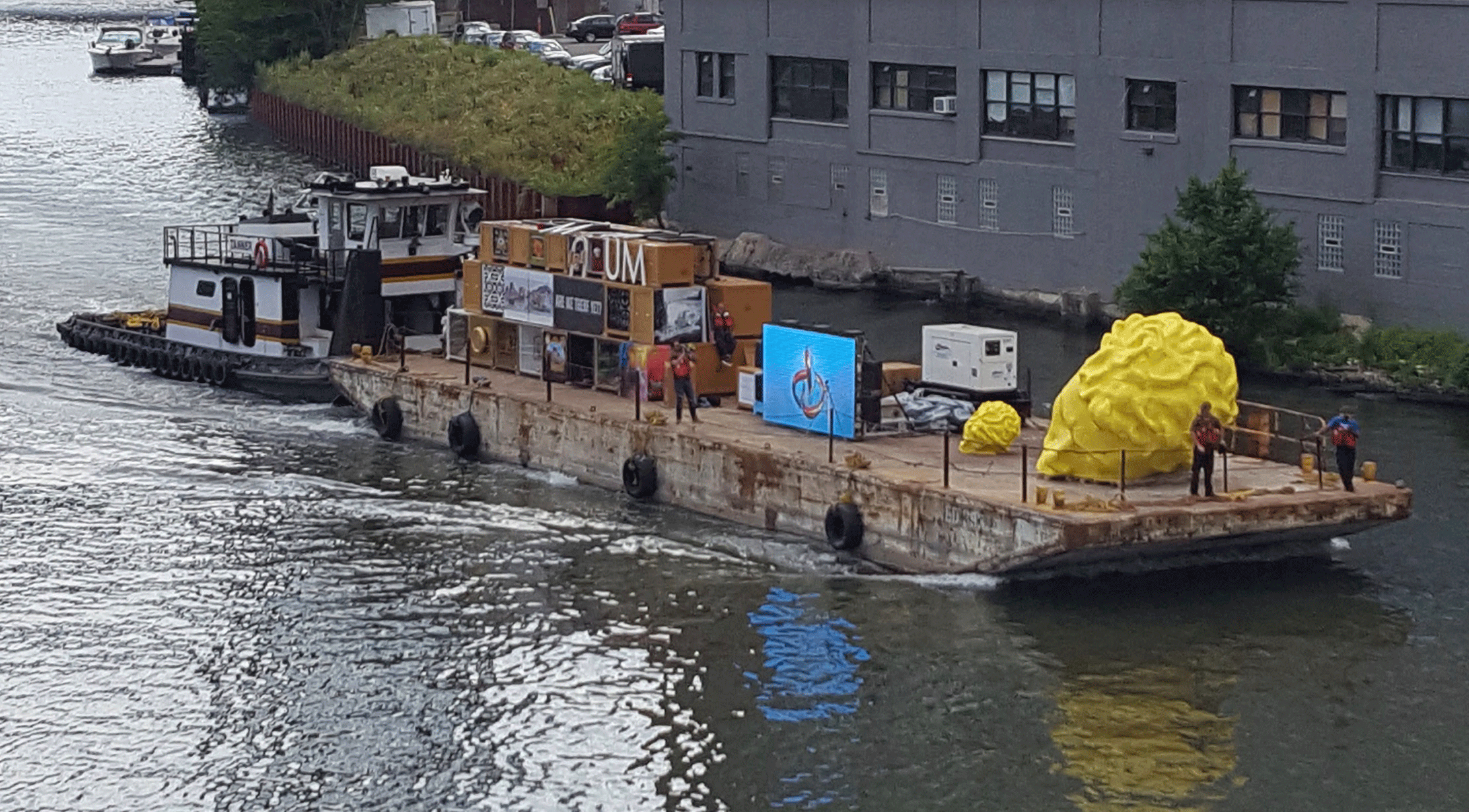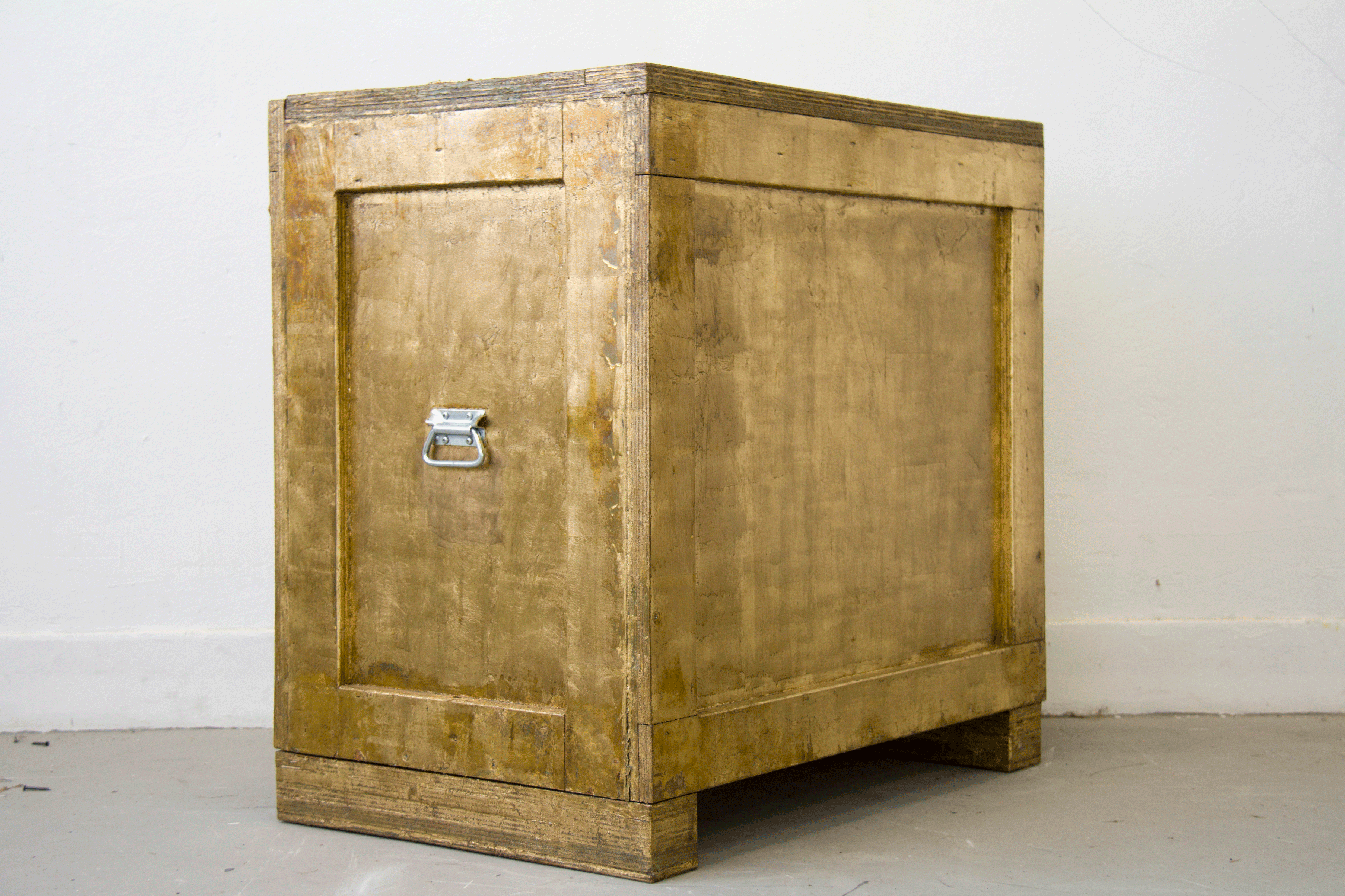 Description /
Floating Museum exists in the continuum of artists examining their relationship to institutions, and responds to the evolution of museums; ranging from the cabinet of curiosities or Wunderkabinett between the sixteenth and eighteenth centuries, transitioning to the dense accumulations of time-capsule vitrines in nineteenth century museums, and finally to the complete contrast of the highly self-conscious, contemporary art space. The idea and practice of a mobile museum might be traced from the Wunderkabinett to Marcel Duchamp's Boite-en-Valise (Portable Museum) from 1941 in a briefcase.
River Assembly responds to history as a way to contemplate the present and speculate on the future of the Chicago River as a space in flux, drawing on its industrial past looking to its future as a valuable urban cultural asset.
Founder
was created by Floating Museum as part of the larger, multifaceted River Assembly project.
Founder
is a 12' yellow-colored styrofoam rendering of Jean Baptiste Pointe du Sable, the first known non-indigenous settler of Chicago.
Founder
was milled from foam using a 3D-scan of Erik Blome's sculpture of Jean Baptiste Point Du Sable, installed on Michigan Avenue in 2009. River Assembly was conceived in part to draw attention to the infrastructure, history and aesthetics of the Chicago River and its importance as a Chicago cultural asset.
Founder, 2017, foam, wood, aqua resin, paint, hardware, 12' x 10' x 10'
Participating Artists /
Miguel Aguilar (aka Kane One)
/
Tiaybe Bledsoe
/
Marcus Alleyne
/
Hebru Brantley
/ Marcus Davis / Asia Delores /
Bill Douglas
/
Louis DeMarco
/ Kameco Dodd / Marcus Evans /
Assaf Evron
/
Krista Franklin
/
Maria Gaspar
/ Tracie D. Hall / Jeff Harris /
Adam Hines
/
Jeremiah
Hulsebos-Spofford /
Yashua Klos
/ Gabriela Ibarra /
Kopano (performance)
/
Faheem Majeed
/
Christopher Meerdo
/
Ciera Missick
/
Cecil McDonald Jr
/
Jesse McLean
/ MonAerie (performance) / Derek Moore /
Dan Peterman
/
Cheryl Pope
/
Pope.L
/
Fernando Ramirez
/
Kameelah Janan Rasheed
/
Cauleen Smith
/
Sheila Smith
/
Edra Soto
/
Lan Tuazon
/ Maria Villarreal / Roman Villarreal /
JGV/WAR (J. Gibran Villalobos & Wil A. Ruggiero)
/
Amanda Williams
/
Bernard Williams
/
Avery R. Young & De Deacon Board (performance)
Participating Organizations /
Dusable Heritage Association
/
Dusable Museum of African American History
/
Graffiti Institute
/
Hyde Park Art Center
/
The Intuit Center for Intuitive and Outsider Art
/
Project Onward
/
SkyArt
/
Southeast Chicago Historical Society
/
South Side Projections
/ T.R.A.C.E /
West Pullman Park